ACEWELL ACE-7659 Digital Dashboard
Acewell 7659 Display units. R2500-00 each while stock last.
Installation of a unit between R1500-00 & R2500-00 depending on vehicle and fitment difficulty.
This has all the basic funtions you need after doing your engine conversion and you are not able to get the old cluster working see full details below picture.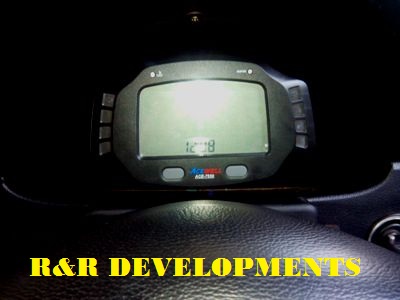 "ACEWELL ACE-7659 Digital Dashboard

FEATURES:

Simultaneously displays tachometer, speedometer, fuel gauge and bar-graph temperature meter, gear indicator, 4x4 symbol as well as one other digital readout. The extra sensor input can be used to add a sender to show oil temperature if required.

Backlight can be switched with sidelights as per IVA / MSVA / MOT requirements

Warning lamps meet requirements of IVA / MSVA / MOT test

Bar-graph tachometer can be set to show 0-10,000 or 0-20,000 RPM

4x4 symbol can be switched on when 4 wheel or diff-lock drive selected, switched off by default and not visible

Compatible with both car and motorcycle engined vehicles

Speed input can connect to included magnet/reed switch sensor or optional cable drive adapter or directly to many speed sensors fitted to automotive gearboxes

Gear indicator calculates gear by comparing speed and RPM on manual gearbox cars, so no additional sensors are required

100% water resistant so can be fitted in beach buggies without worrying about rain damage

Includes RPM sensing wire, speed sensor, temperature sensor, and generic wiring harness

Voltage warning lamp can be configured for the voltages to come on and off to suit any vehicle

Programmable Fuel Gauge which can be set for 10-990 ohms resistance for both full and empty so that it can connect to almost any sender.

E-Marked for road vehicle use within Europe

170mm x 100.5mm x 30mm


Each kit Includes:
1 x Computer
1 x ACE-G Speed sensor and magnet
1 x ACE-PT1/8 Temperature sensor 1/8 NPT which can be used for water or oil temp.
1 x socket for additional temperature sensor (JST connector)
1 x Set of cables & fitting instructions.