Pre-Wired Lexus V8 Engines
Pre-Wired Lexus V8 Engines with Spitronics ECU & TCU systems to make it easy for our customers to have their engines in perfect running order before going through the processes of installing into their vehicles. We use a importer who hand picks his engines to insure our clients gets the best and don't get pushed from pillar to post when there is a problem. Our Importer gives a great back up in case of mechanical problems. All our engines are checked for cleanliness and wired by our trained Spitronics team the wiring jobs are neatly done to ensure no shorts in the system and unlike the competitors using the Huge standard Toyota ECU that tends to go into Limb mode and you never know where to mount it ours are much more compact and wiring is much neater.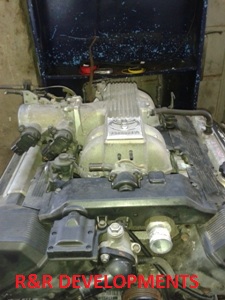 The Spitronics ECU units also has features like Overheating protection and fan controls that comes standard with these units all units are pre-programmed to cut the engine at 105 Degrees for engine protection , after wiring completion the Engine and gearbox is Bench tested and checked with Spitronics software to insure everything is in perfect working order. We start the Lexus V8 engines on the floor in front of the client and go through all the unobvious things to take note of while installing. If there is anything our client are concerned about while installing we prefer they call and confirm the correct methods before they may make a mistake and maybe cause harm to their new engine and computer system they are fitting.
Our Pre-Wired Lexus V8 Engines are wired up according to the Spitronics Manuals and comes with related Laptop software to be able to do self tuning and diagnostics should anything go wrong. This will ensure you are able to diagnose a problem yourself and not have to rely on a mechanical shop of any kind.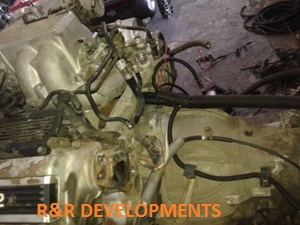 All these imported Pre-Wired Lexus V8 Engines usually originate from Japan and therefore have to abide to the street laws of Japan. These engines have a speed limiter that is set to 180KM/h and are programed into the Standard ECU units, with the Spitronics units we don't have speed limiting so it is completely ungoverned ECU's & TCU units and it has more Performance. Tyre size and Diff ratio's should be carefully worked out before the time to ensure the result of the conversion is correct. The engines have an ideal rev range to be running at when doing 120KM/h. This will ensure good fuel consumption and reliability. The standard Lexus Ls400 runs with a Diff ratio of 3.66 so in order to get the ratios correct you should get as close as this as you can.
We also have a very wide range of Lexus V8 parts and conversion parts available at R&R Developments.

Customer service is our main aim.
We can also arrange other deals where the client supply own engines, but for that details you need to contact our office and Speak to Rian or Rynard